BHU holds hands-on workshop on snakebite therapy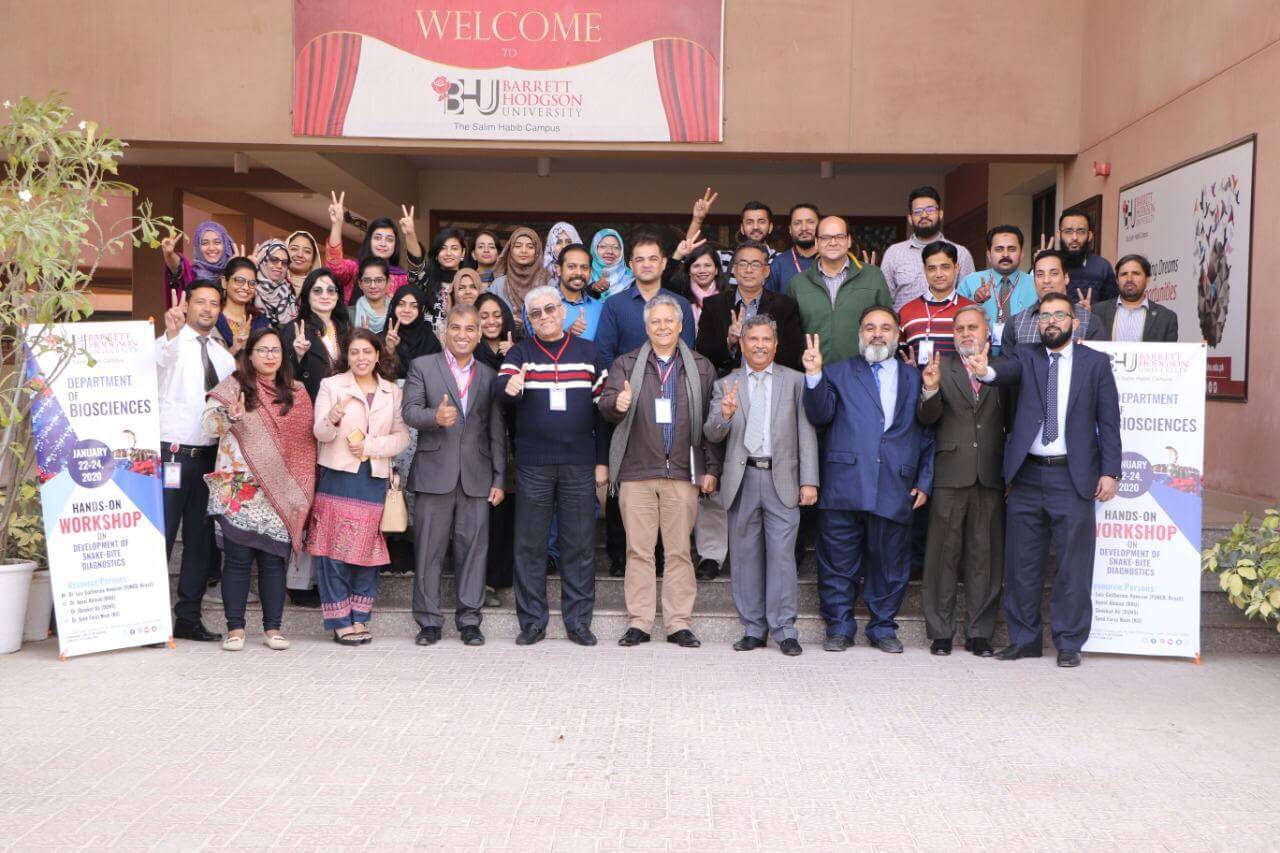 By Our Correspondent
KARACHI: The faculty members and researchers from various higher education institutions across Sindh received hands-on training during a three-day workshop on "Development of Snake-Bite Diagnostics" organized by Barrett Hodgson University (BHU), recently.
Dr. Luiz Guilherme Heneine of Fundacao Ezequiel Dias, Brazil, was the resource person of the training course, which was designed to prepare venom adsorbents for making a species-specific anti-venom antibody, said a BHU press release.
The workshop noted that the development of appropriate diagnostic tests will help reduce complications as well as the cost of snakebite therapy.
Other speakers at the workshop, including Dr Syed Faraz of National Centre for Proteomics, Dr Shaukat Ali of Dow University of Health Sciences and Dr Aqeel Ahmad of BHU, spoke about ongoing works on snakebite and its remedies; importance of effective polyvalent antivenom antisera and its production; complications of available therapeutics, particularly in the Pakistan context.
The workshop participants were informed about the World Health Organisation estimates that about 5.4 million people are bitten by snakes every year, resulting in an estimated 1.8-2.7 million cases of envenoming and 130,000 deaths. "Some 400,000 people end up with long-term disabilities such as blindness, disfigurement or amputation."
According to the speakers, more than 3,000 species of snakes are found worldwide, but only 5% of snake species are reportedly venomous. In Pakistan, 72 snake species are reported, of which only 14 marine and 12 terrestrial snake species are poisonous. The cobra, the common krait, Russell's viper and the saw-scaled viper are commonly responsible for snakebites and deaths in Pakistan.
One of the speakers said that in Pakistan around 40,000 people are reportedly bitten by snakes each year and 20% of these victims die. "Since proper management of snakebite is unknown, haphazard treatment is offered to the affected," he added.
The workshop was participated by over 20 teachers and researchers, associated with various institutions of Sindh — including the University of Karachi, Federal Urdu University of Science and Technology, Jinnah University for Women, Dow University of Health Sciences, Sindh University and Shah Abdul Latif University.