JPMC needs resources to meet bigger challenges
By Mukhtar Alam:
The Jinnah Postgraduate Medical Centre (JPMC), the biggest public sector tertiary health care facility in Sindh, is in dire need of more resources to cope with the bigger challenges.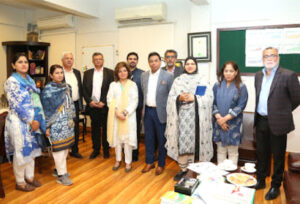 "The government health facilities are pretty good as far as the availability of trained staff is concerned, but they are weak in money. They need a lot of equipment and financial aid," Dr Seemi Jamali, Executive Director, JPMC, reckoned.
The JPMC authorities kept an eye closely on the issues relating to the Coronavirus pandemic (COVID-19) as it spread into Pakistan from the neighbouring countries.
"We had taken it as a challenge and did a lot to in this regard in the preceding weeks. We kept modifying things on a daily basis after having vacated a whole block for such patients," Dr Seemi Jamali stated.
Talking about doctors and paramedical staff, she said that the juniors were being motivated on a daily basis.
Earlier a team of the World Health Organization (WHO) had undertaken a visit to the JPMC to see the preparations and measures being employed to tackle Coronavirus.
The WHO team, headed by their country representative in Pakistan, Dr Palitha Gunarathna Mahipala, expressed satisfaction over safety methods and screening systems employed at the healthcare centre for possible Coronavirus patients.