Chinese university gifts face masks to KU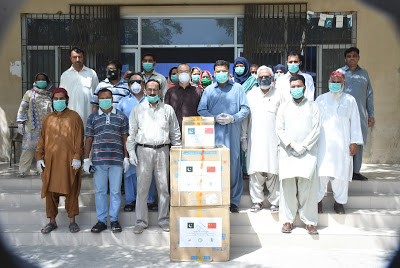 By Mukhtar Alam:
The staff at the University of Karachi (KU), which at present is closed for any academic purpose, will start getting face-masks, having been gifted by a Chinese university from April 7.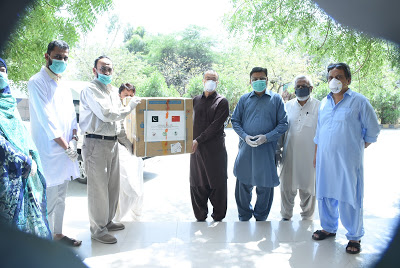 An official of the KU informed PNFS on April 6 that teaching and non-teaching staff may start getting the face-masks from the university's health clinic on April 7.
As many as 7,000 surgical face-masks, including about 50 N95 facemasks, have been arranged by KU's Confucius Institute (CI) recently, in the wake of Coronavirus epidemic in the country, the official added.
Earlier at a ceremony during the day, the CI Director, Professor Zhang Xiaoping, handed over the facemasks boxes on behalf of from the Sichuan Normal University of China to Senior Medical Officer of KU Clinic, Prof Dr Syed Abid Hasan in the presence of KU Vice Chancellor, Prof Dr Khalid Mahmood Iraqi, and senior faculty members.
Professor Xiaoping shared that Pakistan and China have been good friends for many years. "When the human to human transmission of coronavirus occurred in China we got a lot of support from Pakistanis," he added, observing that now, like numerous countries across the globe, Pakistan is also faced with the challenge of the COVID-19 and the Chinese government and people are very much concerned and willing to support Pakistanis.